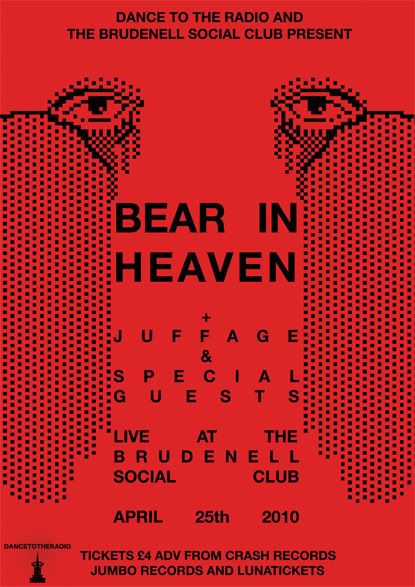 After the AMAZING Esben and The Witch gig, Dance To The Radio is teaming up with The Brudenell Social Club to start the celebrations for Dance To The Radio's 5th birthday and put on one of our favourite bands from Brooklyn, New York.
BEAR IN HEAVEN
http://www.myspace.com/bearinheaven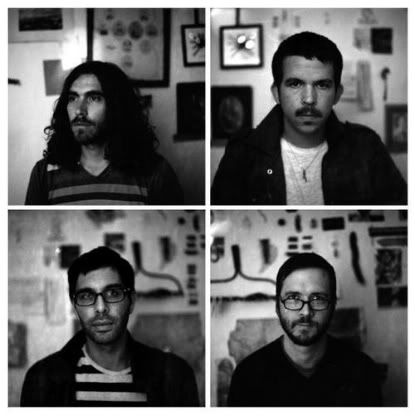 Out of the bed of bands that gave you Grizzly Bear and Yeasayer, Bear In Heaven are a Brooklyn-based rock band formed by Jon Philpot. The sound of the band incorporates influences from psychedelic music, electronic music and krautrock. The band are set to release their current album 'Beast Rest Forth Mouth' in the UK this spring. The album came out to rapturous aplause in the US, through Hometapes, last autumn with Pitchfork giving the album the 'best new music award'.
"Bear in Heaven's greatest trick is creating music that evokes the sort of physicality and scope that could soundtrack a Hollywood film, but also works equally well at stirring up intimate bodily passion"
Rough Trade have also just recently given Bear In Heaven their 'Album Of The Week'
Bear In Heaven will tour the US this Spring alongside Cymbals Eat Guitars, including a stop at SXSW, before heading to Europe for the very first time. We absolutely love this band, have a listen to the album below at either Last.FM or Spotifty and get a free download of Wholehearted Mess.
LISTEN TO BEAR IN HEAVEN - BEAST REST FORTH MOUTH ON SPOTIFY
LISTEN TO BEAR IN HEAVEN - BEAST REST FORTH MOUTH ON LAST.FM
FREE DOWNLOAD - BEAR IN HEAVEN - WHOLEHEARTED MESS
Joining Bear In Heaven on this gig will be....
JUFFAGE
http://www.myspace.com/juffage
Juffage is Jeff T. Smith, a solo sound artist and multi-instrumentalist from Chicago. He is often seen in bars, art galleries, or basements with a band's worth of instruments.
A recording enthusiast at heart, he has spent time in some of Chicago's finest studios including Engine (Brian Deck) and Electrical Audio (Steve Albini). Live shows see him coming up with inventive new ways of bringing his multi-layered recordings to the stage. Through the use of cassettes, drums, guitars, and assorted other loop-pedals and gadgets, Juffage creates complex, yet surprising catchy pop songs.
Juffage performances have been compared to a synthesis of Lightning Bolt's rhythmic ferocity, Radiohead's lush pop sensibility, King Tubby's manipulative production, and Andrew Bird's ability to make a good loop. The result is loud, frantic, and often beautiful.
In 2008, Juffage somehow fit all his music gear into a station wagon and played over 100 shows across the US, before setting off for the UK and Europe. In late July 2009 yet another self-booked U.S. tour of the east-coast and midwest. In September 2009, he moved to Leeds, England.

LISTEN TO JUFFAGE ON LAST.FM
Keep your ears open as more supports will be announced.
At Brudenell Social Club.
Sunday 25th April 2010
Tickets £4 adv from Lunatickets, Jumbo & Crash
TICKET LINK